Early '70s Photo of Oregon's Army National Guard OV-1s flying past Mt. Hood. Mohawk #926 flown by Curt Degner "SCAN 23" (top) leading a formation of Mohawks. The 2nd (middle) OV-1 is flown by Stephen Hammons "SCAN 21" and the 3rd (lower) OV-1 is flown by George Burns "SCAN 09" as they pass by Mt. Hood. You can just barely make out "926" on the tail of the lead Mohawk.
The Oregon Army National Guard OV-1s were assigned to the 1042nd Aviation Company in Salem Oregon in 1972. On April 1, 1973 the unit was re-designated the 1042nd Military Intelligence Company (Aerial Surveillance) MICAS. On Sep 1, 1982 it was reorganized & re-designated the 641st Military Intelligence Battalion (Aerial Exploitation). See Unit Re-designation Order. With the departure & retirement of the OV-1 Mohawks from the Salem Unit in 1992, the 641st MI subsequently converted and was re-designated on 1 September 1995 as Headquarters Detachment, 641st Medical Battalion.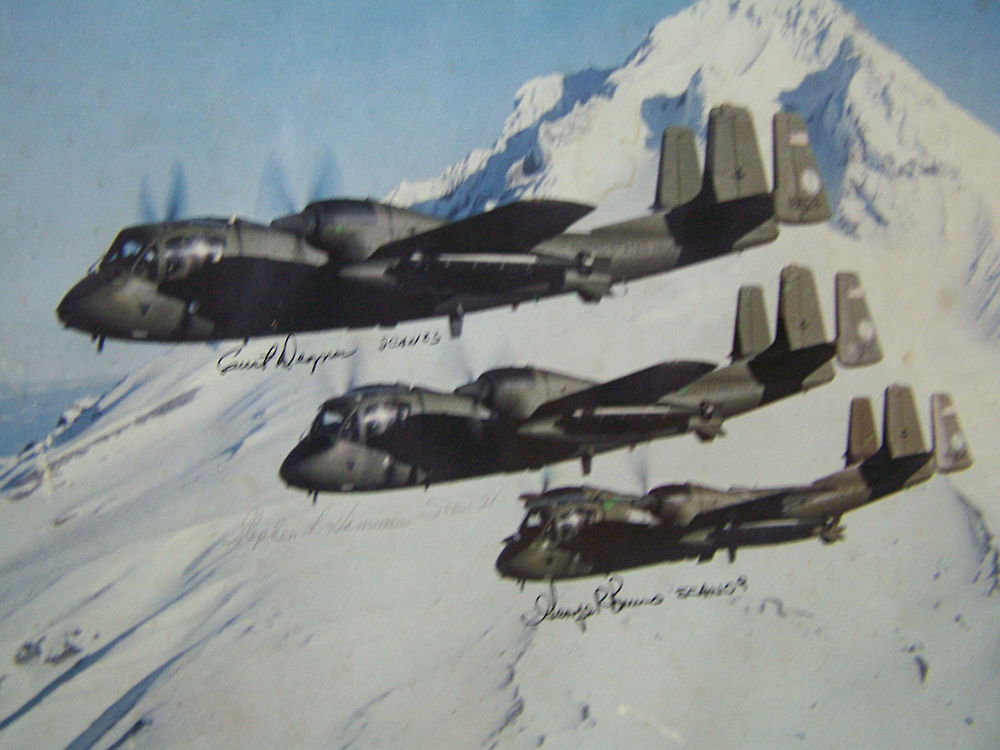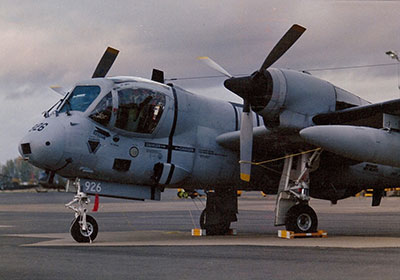 Click here for more about the OV-1 Mohawks in Oregon:
Prepared by: Charles Rosenfeld, Oregon Army National Guard, Maj. Gen. Ret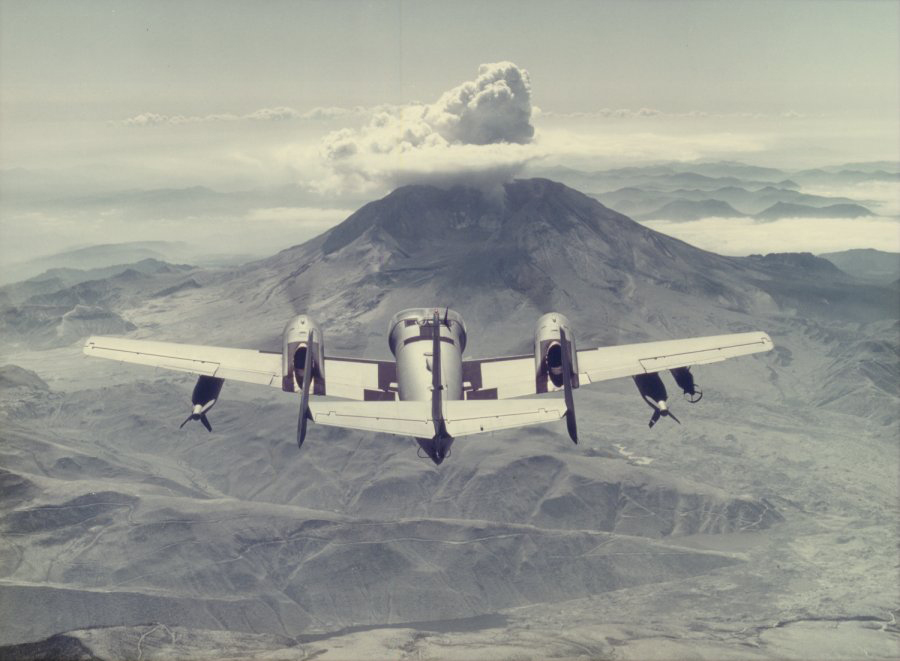 On May 18, 1980, a major volcanic eruption occurred at Mount St. Helens, located in the state of Washington. Oregon National Guard OV-1 Mohawks from Salem were tasked by the USGS to monitor the volcano months before & after the eruption. See excerpt from "Volcano Cowboys" by Dick Thompson & Geology Magazine article by Maj Gen Charles Rosenfeld, Professor Emeritus at Oregon State University (OSU).
OV-1 Maintenance & Support at Salem...simply Outstanding!
The Maintenance & Support staff for the OV-1s at the Salem Army Aviation Support Facility (AASF) was widely regarded as the "Best of the Best" by the Mohawk community! Well known for restoring tired OV-1s to "Factory New", Oregon's Mohawk Maintenance & Support staff had the respect of all aircrews that flew the Oregon OV-1s.
Off to Camp Humphreys, Korea
Surveillance of the DMZ between North & South Korea was heavily dependent on OV-1 Mohawks refurbished by Salem's AASF Maintenance & Support Staff
A Grumman factory photo at Stuart FL on 4/10/1984 in prep for a ferry flight of 5 Mohawks to Korea. After 9 days of test flights and fixing problems they departed for Camp Humphreys arriving there on 5/15/1984. In flight suits left to right Middle Row: Bob Stephens, George Burns, Carl Spriegel (active Army), Allen Barss, Dick Wolfe, Mike Polanski, Roy Mellow. Top Row: Dennis Wellbrock, James Buchanan, Stan Rolfness, Jim Murphy, Richard Dearborn.